vCard Splitter to Split Multiple vCard Files Quickly!
Split vCard files in many vCard file in just few clicks by vCard Splitter
vCard Splitter is simple and comprehensible tool for splitting single vCard files contacts to multiple vCards. If your all business contacts stored in single .vcf file and you want to split your contacts into separate vCard files. Get vCard Splitter tool to split contact stored in single .vcf files to multiple .vcf files then you can easily import separate vCard files into Outlook, Lotus Notes, Thunderbird, Outlook Express/Windows Mail, Google/Gmail, Apple Address Book, Windows Address Book. IPhone, IPad, IPod, Blackberry, Palm etc. It enables users to split single .vcf file into separate vCard even without Outlook installed.
Some advance features of vCard Splitter:
Split any version of vCard files
Split multiple vCard files to individual vCard files even without Outlook installation.
Preserve contacts properties like: First name, last name, email address, phone no, mobile no, images, website etc.
Compatible with all Windows versions: 98, 2000, 2002 (XP), 2003, Vista, and Win 7 including Windows 10.
How to Split vCard file contacts?
vCard Splitter takes standard vCard file and exports all valid vCards into individual vCard files. It can be useful if you are trying to export separate vCard files into another system. vCard Splitter avoid overwriting data at any point, it does not alter and overwrite the original file. You need to perform only 3 simple steps to convert single file contacts to separate vCard.
Download & Install vCard Splitter Go to Start menu » Program » vCard Splitter» vCard Splitter
Browse Single vCard file having contacts.

Click on Spit vCard button to start the process.
Screenshot of vCard Splitter: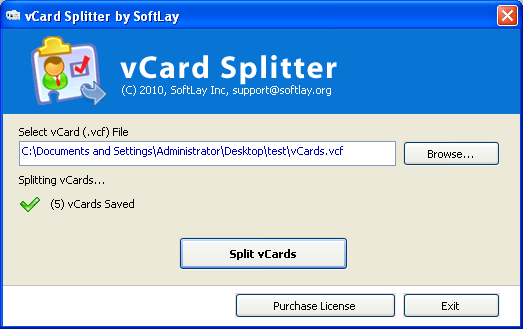 You can download trial version of vCard Splitter free to try. Trial version is fully functional with some limitation, it only split 5 contacts from standard .vcf file.
Money back guarantee if full version fails to perform like demo does. You can buy the product online using SSL (Secure Socket Layer) method.