Complete Data Recovery Software — Bit Recovery Solution!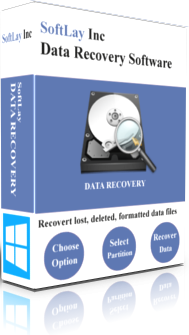 Have you ever run into disk/drive failure OR accidently formatted your external/local?
Not to worry! We recently commenced our new range of Data Recovery, Pen Drive Recovery, Virtual machine recovery software's and solutions to solve your queries allied to how to get back my lost or formatted data, deleted files and permanently lost data from corrupted or crash hard drives.
Complete bit data recovery software is specially designed to perform complete disk data recovery, complete formatted partitions & deleted files recovery. So there is no doubt that our data recovery tool is not a pricey deal for you. Complete Data Recovery is designed considering the Home/Enterprise users to recover data from local/external/USB/flash drive. Complete Bit Recovery products are 100% genuine and tested in Data Recovery labs up to 10 TB data without any data loss or inaccuracy.
Download Demo Now
For Windows 10/8.1/8/7/Vista/XP Available at $49.00
Order & get full-featured software
How to Execute Completely Formatted Partition Recovery?
To prevent data loss, you can create backups for your data but in case if you accidently deleted your important and crucial data or facing hard disk failure and formatted partition then you can undoubtedly download and try our Complete Bit Recovery – Data Recovery Software to recover & preview all your accidently/permanently lost data/files/folders without any cost. Our demonstration version will give you a quick instinct that how the full version of Complete Data Recovery software will work it's recovery procedure on bit by bit of your lost data. To save previewed data you need to get complete edition of the software.
Have a look on Data Recovery Process:
Here is fleeting look of our data recovery software in few screens.
Step#1 – After installing our data recovery software you need to activate the license for full recovery which is showing in the below screen.

Step#2 - In second screen you can see five different options to recover lost data; you just need to choose the option to begin the recovery process.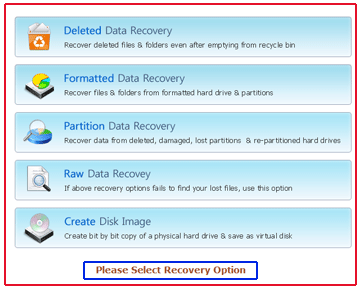 Step#3 - You can see all the partitions and drives are visible on the left side now select the partition or drive and click on next button to start the scanning procedure.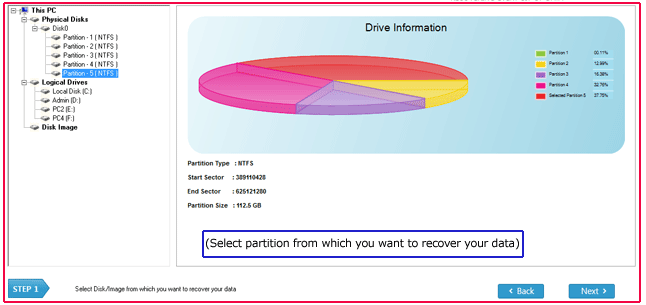 Step#4 – After clicking on the next button scanning process will begin and search all your deleted, formatted or lost data and give you a preview of all the files/folders which you want to recover.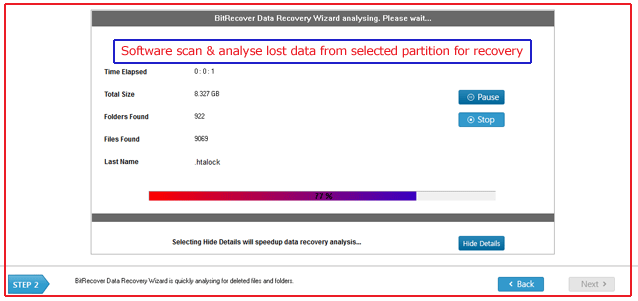 Step#5 – See all the data is showing after scanning but to save all the scanned/previewed data you need to buy software full edition. You can directly buy the full version on clicking on the buy button showing on the software.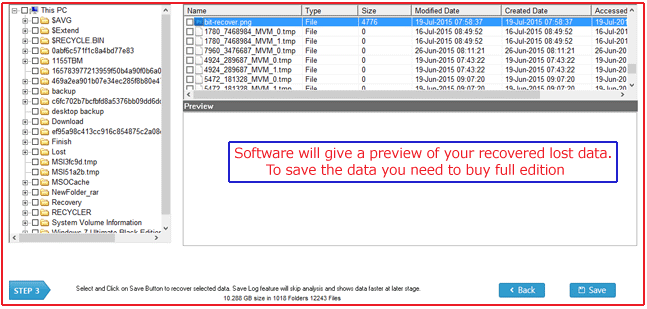 You Question - We Answer!
Q.1 Is it possible to recover my permanent deleted data from hard disk?
Yes it is possible! You can recover your permanently or accidently deleted/lost data from hard disk or raw partition using our Complete Bit Recovery software using its deleted data recovery option.

Q.2 Is your software recovers data from External/USB/Flash drive?
Yes! Our software recovers data from USB drive, Flash drive, and External drive intelligently. Software also supports FAT16, FAT32, NTFS partitions.

Q.3 How do I recover my important documents from formatted partition?
You can select Formatted Data Recovery option in our software to recover your important documents, images, files etc. it will quickly scan your lost documents and let you save the recovered items.
Q.4 Is there any option or filter to search and recover particular files using your software?
Yes! You can choose Raw Data Recovery option to scan and recover only selected files using Complete Bit recovery software.

Q.5 Sometimes my hard disk gets inaccessible is there any way to backup my data safely?
Well it's a sign that your hard disk is going to crash in that case you can select Create Disk Image option in our software. It will create an exact virtual copy of your hard drive then you can recover your data from it. Software let you perform recovery bit by bit of your data and let you use it again.
Download Demo Now
For Windows 10/8.1/8/7/Vista/XP Available at $49.00
Order & get full-featured software