Easy Solutions to Combine Multiple Word documents!
Are you going to Combine Multiple Word documents into single file?
Use our versatile SoftLay Combine My Documents tool to quickly merge multiple word documents (Docx, Doc) into single file. This Combine My Documents has advanced algorithm to merge the Word documents in automated process. The best advantage of Combine Word Documents is it keeps original formatting of Word documents while merging the multiple word documents into one.
Content & Images of documents
Tables & Charts of documents
Ranges, Alignment and HTML formatting of docs

Advantage of Combine Multiple Word documents!
Reduce workflow - Don't waste any more time trying to handle thousands of Word documents.
Manage Word files with an ease - Reduce the manageability of Word files. You can organize the files at one place by merging the documents you need.
Intuitive GU interface - Easy to use and simple GUI enables you to quickly learn how to merge Word documents in seconds.
Combine Word documents through an easy 3 steps - add folder having docx/doc files >Select destination path to save the merged documents >Click on Start button to complete the process.
Important Note: Combine My Documents also available in Command Line Tool which allow you to merge Documents via Command (CMD ). It comes with Unlimited License of Combine My Document.

Screenshot to Merge Word files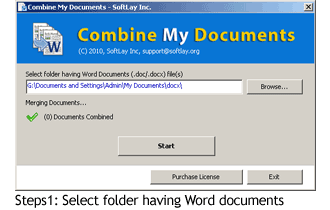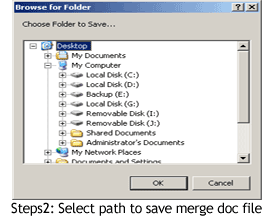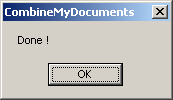 System Requirements
Supported Platform:
Microsoft Windows XP , Microsoft Windows 2000, Microsoft Windows NT 4.0, Microsoft Windows 2003 Server, Microsoft Vista (32 bit & 64 bit)
Microsoft 7 (32bit & 64bit), Windows Server 2003 & 2008
Supported Microsoft Word:
Microsoft Word 2003, Microsoft Word 2007, Microsoft Word 2010
Merge multiple word documents and Combine multiple word documents with Combine My Documents provided by SoftLay. This word document merger able to merge any word documents related to word 2003, 2007 & 2010 in few clicks. To know how it merge docx+doc file in right manner, please download and try free version of Combine Word Documents.
We do provide 30 days money back guarantee of all our SoftLay's product. If you are not satisfied with our product and it does not work as we advertised then you can get your full credit.